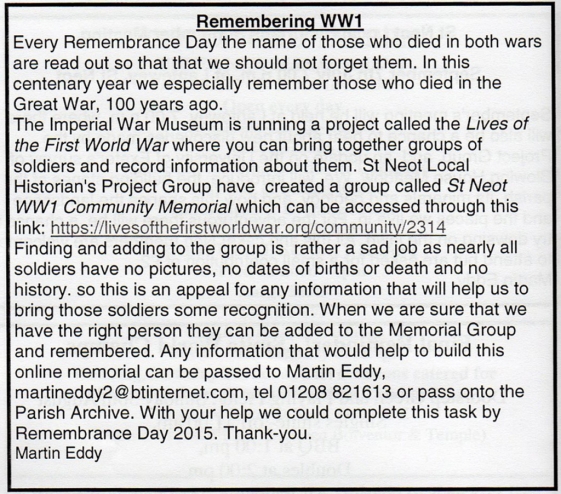 St Neot Local Historians Project Group
Lantewey, Monday 6th July 2015, 7.30p.m.
AGENDA
i. Survey in Blowing House Meadow - ME
ii. Survey adjacent to the road at Tredinnick Chapel -AC
iii. Learn to explore Cornwall Record Office - ME
- booking a time
iv. Upright boundary stones joint project with Warleggan - JM/ME/AC
- survey so far
v. Survey Garnick's Wood
vi. Reconstructing St Neot
vii. Survey of C18th/19th.20th mining in St Neot
viii. A dig? A smelt of tin? Metal detecting?
ix. Mound at Temple -ME
x. Oral history project
xi. History in your attic - AC
Alistair - visit to WWI sites in Turkey
Chris - Archive